When To Power Wash a Home in New Jersey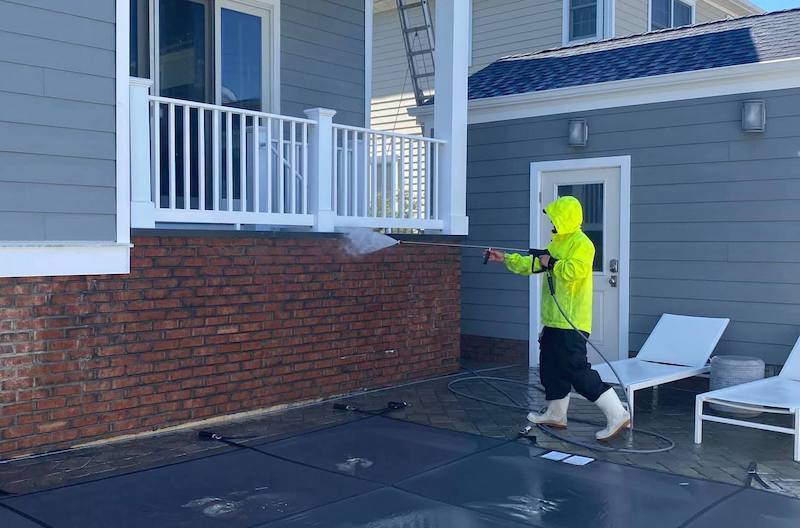 Springtime may be a huge season for power washing in NJ, but with summer well underway we're still going strong! Here are a few common questions about power washing that we wanted to address, but if we missed any please feel free to contact us.
When Is Pressure Washing Season?
Here in New Jersey where we have cold winters and hot summers, we recommend power washing at any point during the warmer months. Spring through early fall. Remember, the goal is not only to refresh your curb appeal, but also to give your exterior surfaces a deep clean (check out these additional benefits here!). The right water pressure and cleaning solutions work together to remove accumulated mold, mildew, and dirt, helping your paint and stain to last longer and look better. A thorough power washing can work wonders!
How Often Should You Power Wash Your House?
It can depend quite a bit on your specific home, plus its location and weather exposure. In general, however, we recommend a thorough wash across your entire exterior 1-2 times per year as part of your routine maintenance plan.
Will Power Washing Harm My Siding or Driveway?
There are two extremes here.
On one hand, we've seen homeowners try to wash their home themselves with a garden hose. This is really ineffective since a garden hose obviously doesn't have the kind of pressure you need to achieve a deep clean.
On the other hand, you can rent or purchase a pressure washer from a home improvement store, but this can be a dangerous approach. A pressure washer is a power tool, and it can do serious bodily harm as well as inflict surface damage if you don't know how to handle it. Your home's age, condition, and the nature of the substrate all need to be considered, with adjustments made for harder surfaces, vinyl siding, masonry, wood siding, etc. The building materials have to be factored in. If you have a two-story home, you also have to consider how to safely access those higher-reach areas.
So yes, if used incorrectly, you can harm your siding, driveway, patio, or yourself! That's why we recommend hiring a professional power washing company to handle the process for you.
Should You Power Wash in the Spring or Fall?
One benefit to power washing in the springtime is that you can enjoy a fresh start to the new season, washing away winter's residue. But if you missed the window for any reason, there's no time like the present! Whenever you do it, the important thing is that it's done before winter rolls around again.

Have any additional questions? Contact us at Clean Lines Painting and Powerwashing! We're here to help, and have extensive experience caring for New Jersey homes like yours.