Kitchen Cabinet Painting: the Perfect Wintertime Update
With the holiday season here, we're officially doing more work inside than out. Our NJ clients are looking for rooms to be painted, surfaces repaired and updated, and fresh style added, ideally before family and friends arrive. Here's a little interior painting inspiration for you!
Your kitchen is always an important space, but never more so than during this chillier season. And, with this renewed focus on the heart of your home, our team has been busy painting kitchen cabinets.
Let's take a closer look at the benefits, and a few key questions to ask yourself before you invest in the process.
What Are the Benefits of Painting Kitchen Cabinets?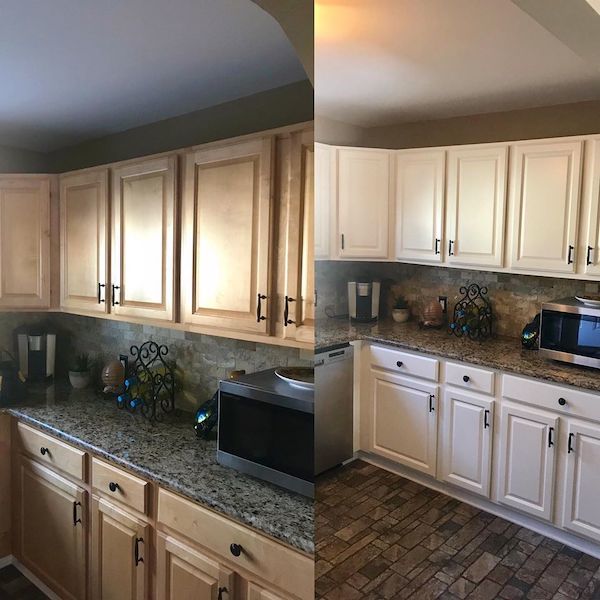 While natural wood will always have its place, homeowners today are loving the painted look. This is a powerful way to add fresh, bright style, right alongside a few other key benefits:
Totally customizable styles
Add accent colors (painting darker lower cabinets or a kitchen island can look amazing)
Less mess than a full remodel
Less expense than a full remodel, too
Update the cabinets you have, saving time and money
Should You Paint Your Kitchen Cabinets?
Here are a few key considerations and questions:
Are your cabinets good quality? Painting may be less expensive than a remodel, but it's still an investment. We recommend only investing in cabinets that are good quality, and really worth improving.
Are your cabinets in good condition? We can perform light repairs as part of the preparation process, but if your cabinets are substantially worn and damaged, a replacement may be a better long-term option.
Do you like the existing layout and functionality of your kitchen? Painting cabinets certainly transforms the style, but it obviously doesn't change its layout or capabilities. It's important to be sure you love your cabinets, minus their older aesthetic.
Cabinet painting requires an expert hand, experience, and the right product knowledge to be truly successful. If the process is approached correctly, however, your fresh paint can look fantastic and perform as you need it to for years to come.
Have a Question About Cabinet Painting in New Jersey?
We're here to help. Give us a call to discuss your project idea, and you may also want to look at this video for a closer perspective on the cabinet painting process.